Pool Installations Buckeye, AZ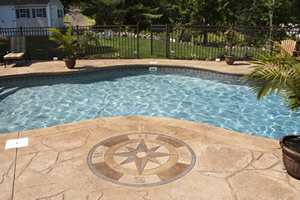 At Sunview Landscape, LLC, we have expert crews who can work on pool installations for commercial, as well as residential properties. We have completed a lot of projects in Buckeye, Scottsdale, Phoenix, and Peoria, and we continue to serve more and more clients every passing day. With relevant experience spanning several decades among our crews, we can surely bring your dreams into gorgeous and lasting paver amenities.
Call us today at 623-386-8401 for a thorough discussion of your pool installation concerns.
Versatile, Highly Capable Pool Installers
Swimming pool installations are rather tricky and highly exacting projects that only skilled and experienced crews can perform with positive results. At Sunview Landscape, LLC, we're proud to say that we have the capabilities to handle any pool project for residential or commercial properties. In fact, some of the stunning pool amenities in several properties in Buckeye, AZ and surrounding areas are our creations.
Our installers are versatile crews with the dexterity of those who have been doing such projects for decades. Hence, our personnel can handle any type of pool installation task that you may require them to tackle. From concrete pools, gunite pool to fiberglass pools; we are your one-stop pool shop!
We Install Premium Quality Pools
One of the secrets to creating eye-catching swimming pools that will surely last for decades is by using only the finest quality products and materials. Accordingly, our company believes that shortchanging clients by using inferior products from obscure manufacturers is simply not the way to do business. Instead, we rely on our extensive network of contacts, which includes the most trusted pool suppliers and manufacturers in the country.
Types of Pools Services
Since we have handled countless projects involving pool installations in Buckeye and other Arizona cities that we serve, we have become experts in what we do. We can design and expertly build all kinds of pool amenities, such as the following:
Concrete pools
Gunite pools
Shotcrete pools
Spas
Fiberglass pools
Vinyl pools
Pool renovations
Pool repairs
Pool decks


Stunning Swimming Pools
We can design and subsequently create all your dream swimming pools. Whether you aim for classic appeal or you fancy modern sensibility, our crews will help you achieve your dream pool or spa. With our expertise, access to the finest materials, complete tools and equipment; we can guarantee you an absolutely stunning pool or spa.

And the best thing is that we offer affordable rates that clients can be happy about. So don't worry if you have a limited budget – we'll make sure that you get the pool you want for the price you want!

Hire us today and be assured of stunningly built and long-lasting swimming pools and spas.